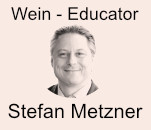 Professional tasting note by
Stefan
tasted as an open tasting on 05.11.2020 in Munich with a Gabriel glass – Gold Edition
Appearance: medium lemon yellow
Aroma profile: m+ intensity
Primary aromas: peach, apricot, ripe yellow stone fruit (apple, quince, pear), floral aromas of white flowers,
Secondary aromas: yeasty notes, brioche, toast, nutmeg.
Palate:
Acidity: medium – fresh
Body: m+
Sweetness: dry
Alcohol: 13.5% – integrated
Wood // yeast influence: subtle wood notes toast, nutmeg and some yeasty tones, brioche.
Balance:very good balance between the almost full body and the fresh acidity
Length: m+
Intensity: m+
Complexity: m+
Typicity: ripe aroma profile – typical for ambitious Pinot Gris
Potential: 5 years
Overall impression: A dense white wine with very good balance and complex aromatics. The wine has a harmonious finish. The fresh acidity allows the wine to still develop.
CELLERMASTER'S NOTES Our Pinot Gris grapes come from different vineyards. The soil types are loess and volcanic soil. We cultivate our vineyards strictly according to the guiding principle "Quality is created in the vineyard". We invest a lot of time in manual foliage work and yield-regulating measures.
The 2019 vintage was again a normal vintage in terms of harvest timing. There was very good weather at the time of flowering, so that the basic yield was again too high for us. Therefore, an intensive green harvest was necessary again. During the harvest itself, the weather was cool and there was some rainfall from time to time. Due to this cool climate, the fine fruit aromas became particularly beautiful.
In the cellar, part of the grapes were sorted and the large quantity was gently pressed as whole grapes. Maturation mainly in stainless steel, 10% in used barriques. With a nice long ageing on the fine lees, the wine has reached a sensational quality.
WINE ANALYSIS
Fermented and matured: 90% stainless steel tanks and 10% barriques
Shelf life: 10-20 years
Alcohol: 13,5% vol.
Acidity: 5,9 g/l
Residual sugar: 0,7 g/l
Sugar-free extract: 20.5 g/l